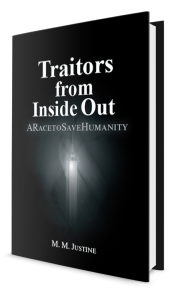 Reviews
Traitors From Inside out is a powerful grabber with twists of suspence,suffering and exploitation, all spiced with a compelling love story. The heroine Martina, at her best is inspiring. The book is a must read.

~ H. M. Jaggwe
A thrilling story making one re-evaluate the medical industry and its agenda.
It is also a love story and relentless resillience. I loved reading it.
~ Tina

It is a tale of twists and turns with plenty of surprises. It will keep you turning pages.
~ Miriam. B

M.M.Justine's writing is vividly cinematic, with paintbrush visual images and continuous action. Brace yourself for a breathtaking reading experience.
~ Christine Nakoma

Great book, I was hooked. Dark, mysterious and very entertaining. Looking forward to the next book, Traitors Unleashed.
~ J. Lovesy
TRAITORS FROM THE INSIDE OUT — M M JUSTINE
Such the like have not been encountered in two millennia
Five Star Rating By Mr Lou.
QUICK SNIPS AND QUIPS
About 30% of all writers write to educate, influence, and to help others. M M Justine has done just that with her first book in the Traitors Trilogy, Traitors From the Inside Out.
Our world is undergoing such massive change, such the like have not been encountered in two millennia. I don't understand how so many people can not simply grasp the reality, or the gravity of direction in this change. Not so for M M Justine, for whom without a doubt is completely on base with the concepts of corporatism in medicine as related to the parasitic, incessant accumulation of wealth and power, as well as the globalist agenda of depopulation.
Traitors From the Inside Out is a tale of fiction from fact. This story was so in touch with reality, that I personally found it difficult to tell if this novel was a documented non-fiction, or not. If there was ever a fiction to educate the unknowing, this is one such book.
I was indeed held fixed and spellbound as Ms Justine vividly captured the imagery in this dark writing by exploiting the pain and misery of 'inmate' patients, at the hands of a sinister, parasitic, syndicate comprised of political, medical, and law enforcement figures, lusting for power and wealth.
Intertwined throughout this sickening plot, I was revived by a sensitive love story, complete with all the roadblocks and triumphs every person encounters in such affairs of the heart. Mesmerized in a see-saw of emotions I was held firmly in the grip of this powerful, easily read writing from the first page to the last.