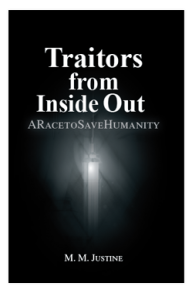 BOOK OVERVIEW
Traitors from Inside is the engrossing story of Martina, a young woman who is fated to save the world from utter destruction. It is a riveting tale filled with action, suspense and deception.
Learn More
Order A Copy Now
RECENT BLOG POSTS
Welcome!
To the home of the medical thrillers. I'm the author of the Traitors trilogy. The first installment, Traitors From Inside Out was published in February 2014.
I have been delighted and thrilled by the positive reviews from readers of the first installment. I am looking forward to bringing you the second installment, Traitors Unleashed, before the end of this year. The third installment will follow in 2016. Please, keep returning to this site for more updates.
With gratitude,
M M Justine
Join My Mailing List!
Would you like more information about the book?
Please fill out the form below so that we can add you to my email distribution list.
We thank you in advance for your interest!